Discover more from Consume Your Own Tech Investing
Covering human psychology in investing, consumer, and tech sectors. It is also about managing a portfolio based on your "personality tech" without copying others. Author is a seasoned investor, ex-ibanker, and grad student in clinical mental health.
A Tesla Retrospective at Petersen Automotive
"Inside Tesla" is an exhibition in Los Angeles that provides a comprehensive look back at what Tesla has accomplished since unveiling the Roadster in 2006. By Benjamin Tan
2022 was not the best year for Tesla (TSLA 0.00%↑). Apart from a cratering share price, media coverage on the company turned even more negative since Elon Musk made an unsolicited offer to buy Twitter in April 2022. It was a messy acquisition, partially funded by Musk selling and collateralizing his personal stake in Tesla. His controversial efforts to turn Twitter around have been heavily criticized by the press and advertisers began to abandon the social media platform in droves. More attention was paid to Musk and his Tweets, than the first deliveries of Tesla Semi to Pepsi (PEP 0.00%↑) in December 2022.
Perhaps this prompted Tesla's first ever exhibition to steer public narrative away from the sideshows, and back to its electric vehicles?
Get FREE WEEKLY posts like this Tesla article in your inbox by subscribing below:
Inside Tesla, versus Outside
Inside Tesla: Supercharging the Electric Revolution traces the company's story from fledgling startup to EV juggernaut and explores the range of its products, the breadth of its manufacturing capabilities, and its irrefutable impact on the modern transportation landscape
Tesla collaborated with Petersen Automotive Museum in 2022 to put together a comprehensive retrospective that includes all of its prototypes, from the Roadster (unveiled in 2006) to the alien-looking 2019 Cybertruck which I was most excited to see up-close:
The showcase is more than just Tesla or Cybertruck though. Electric vehicles have been around since 1890s, and up until the 1910s, they were even more popular than their steam and gasoline counterparts. Over the years, many attempts have been made to revive the electric vehicle, but none succeeded until Tesla introduced the Roadster in 2008. On display at Petersen are several models of little-known electric cars produced over the last 100 years, including the below cute-looking 2001 Nissan Hypermini with a range of 72 miles:
"Inside Tesla" tells an unlikely story of how a small 2003 Californian start-up defied all odds to become one of the most valuable companies in the world. With each prototype, Tesla pushed the boundaries of battery technology, manufacturing processes, and vehicle designs to revolutionize the entire automotive industry. Along the way, it has compelled every other carmaker in the world to make a pivot towards an electric future.
Quite a different story from the media circus surrounding Tesla on the outside these days.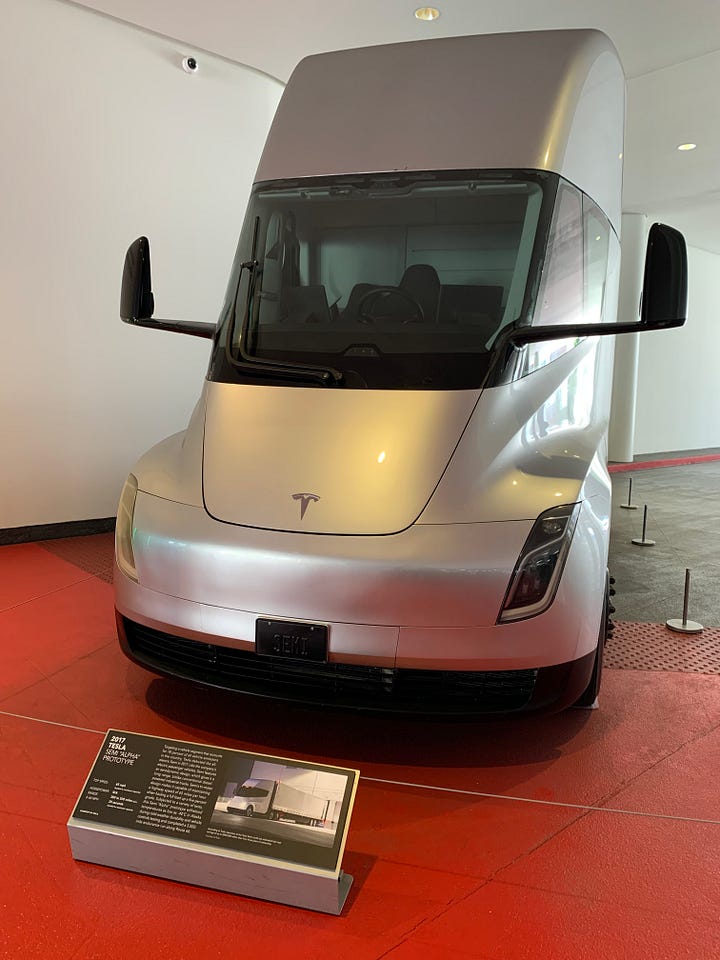 Q4 2022 Results and Beyond
Tesla will be reporting Q4 2022 results on January 25th after market close. The company has already announced its production and delivery numbers for the quarter, but attention will be on its margins (given ongoing price cuts) and volume guidance for the coming years.
I wrote about Tesla in this post on January 10th, and noted near-term difficulties arising from a combination of weaker macro, increasing competition and higher interest rates. Having visited "Inside Tesla", I am even more confident that the company will pull through its current challenges to continue its trailblazing ways. Its past accomplishments are nothing short of groundbreaking, and Tesla is not just another electric vehicle maker. It is history in the making. Regardless of the outside noise, I am glad (with a degree of measured pride) to be part of that history with my 2021 Model Y and a modest stake in the company.
(Long TSLA 0.00%↑)
---
Subscribe to Consume Your Own Tech Investing FOR FREE to receive a welcome email with the following:
Latest Top 10 positions in my high conviction portfolio that combines value with growth stocks

Book recommendations on investing, consumer and technology sectors

One article delivered into your inbox every Tuesday

Preview of upcoming articles
Follow me on Twitter @ConsumeOwnTech and Commonstock @ConsumeOwnTech
---
NOTE DISCLAIMER: This blog does not represent investment advice and is solely the author's opinion. Contents herein are for educational purposes only. Any discussion here is not an offer to sell or the solicitation of an offer to buy any securities of any company. The author is not a stockbroker or financial adviser. Consume Your Own Tech Investing makes no representations, and specifically disclaims all warranties, express, implied, or statutory, regarding the accuracy, timeliness, or completeness of any material contained in this site. Consume Your Own Tech Investing recommends that you do your own due diligence. Please see the full
Disclaimer
on the
About
page for more detail.